Kuertiego przypadki Opublikowany 27 lutego 2011 | autor Grzegorz Łuczko
29
Ciągnie wilka do lasu…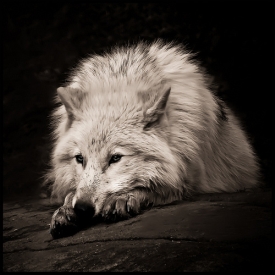 … a wilk wcale nie stawia oporu. Przeciwnie, ostrzy sobie zęby na ściganie. Nie jest wskazanym dla drapieżnika zbyt długie trwanie w stanie "bezstartowym". Brak polowania na kolejne punkty kontrolne przy jednoczesnym ograniczeniu pokonywania długich dystansów sprawia, że wilk się rozleniwia, a jego instynkt zanika. Aby zapobiec procesowi zamiany łowcy w leniwego miśka, zaleca się od czasu do czasu dać sobie porządnie w kość!
Start we Włóczykiju, moich pierwszych zawodach od 2,5 miesiąca, zbliża się wielkimi krokami. Wygląda na to, że problemy z kolanem mam już za sobą. Co wcale nie znaczy, że od teraz "żył długo i szczęśliwie, przemierzając setki kilometrów na treningach i wygrywając kolejne zawody". Zupełnie nie tak. Trenować, owszem trenuję, ale ten rok zapowiada się wyjątkowo paskudnie jeśli chodzi o szanse na starty w zawodach. I nie, wcale nie zamierzam zacząć marudzić!
Czas się skurczył do dwóch kolejnych i później 3 ostatnich miesięcy tego roku. Od maja do końca września pracuję na 2 etaty, od poniedziałku do niedzieli. Nie ma zmiłuj. Ale wiecie co? Nie będę marudził! Koniec z tym. Punkt wyjścia, moja perspektywa jest taka: wszystko ma swój czas i nic nie dzieje się przypadkiem. I nie chodzi o to, że godzę się z losem bez podejmowania prób jego zmiany, nie. Chodzi o to, że czasem po prostu trzeba zaakceptować to, co przynosi los i… i znaleźć w tym jakieś pozytywy. Pozytywy zawsze są. Zawsze.
Dobrze, dość filozofii – ostatnio oberwało mi się za tekst o kryzysie wieku średniego. Skupmy się więc na faktach. To będzie cholernie dziwny sezon, najdziwniejszy w historii moich rajdowych występów. Nigdy na tak długo nie musiałem odmawiać sobie startów. Z drugiej strony cała ta sytuacja ma jeden fantastyczny pozytyw. Wreszcie będę mógł skupić się na spokojnym, systematycznym treningu.
No i spoglądając w mój dzienniczek biegowy z dumą muszę stwierdzić, że póki co, mi to wychodzi! Od czasu wizyty u znachora, który dał mi zielone światło, jeśli chodzi o wznowienie treningów (pierwszy trening po przerwie – 13 styczeń), nabiegałem już 260 kilometrów. Oczywiście to "już" jest bardzo subiektywne, dla części z Was to duży przebieg, ale znajdą się tacy czytelnicy, którzy taki kilometraż robią w 2 tygodnie.
Ja przyjąłem taktykę małych kroczków – trenuję 4 razy w tygodniu, powolutku zwiększając obciążenie. Dziś, podczas długiego niedzielnego wybiegania, udało mi się pokonać 20 kilometrów, nie przebiegłem tyle podczas jednego treningu od… od października! Czyli prawie 5 miesięcy. Nie trenuję według żadnego planu – biegam wedle samopoczucia, owszem, mam pulsometr, ale nie przejmuję się nim zupełnie. I pewnie dlatego biegam szybciej niż powinienem – biegam na zbyt wysokich tętnach.
Pisałem już, że nie przejmuję się tym? No właśnie – skoro to będzie dziwny rok, to na cholerę mam się stresować jakimś tętnem, biegam tak jak lubię! Chcę trochę przyśpieszyć? To przyśpieszam! Noga jeszcze nie podaje tak, jakbym chciał, żeby podawała, ale to przecież tylko kwestia czasu. Poza tym idzie wiosna! Będzie dobrze!
O Włóczykiju jeszcze napiszę kila słów przed sobotnim startem. To będ,a kolejne zawody, ale znów nowe doświadczenie. 2 razy z rzędu wygrałem tę imprezę, jadę tam po raz trzeci i… no właśnie, czuję lekką presję – ze swojej strony, że muszę znów wygrać. Do soboty muszę się uporać z tą myślą.
To, że będę miał mocno ograniczony czas wcale nie znaczy, że rezygnuję z mocnego startu w tym sezonie. Mam już upatrzony cel – ale o tym innym razem. A jak Wam mija zima? Zadowoleni jesteście z treningów? Jak się czujecie na chwilę przed nowym sezonem? Jest forma?